In Poland, from the second half of the 1950s, Amateur Film Clubs operated at workplaces — their aim was to popularize film art and constitute an important educational tool. At the Amateurs screening, that accompanies the Cold Revolution exhibition, you will have a chance to see the most interesting examples of amateur films from Poland and Czechoslovakia, selected by experts on the subject: Paulina Haratyk and Jiří Horníček. It will also be an opportunity to learn about the specifics of this film movement in both countries and to look at this specific period in time from the point of view of an ordinary person. Although it was often an unusual point of view.
Paulina Haratyk — film researcher dealing with independent, amateur and avant-garde cinema. She finds and popularizes unknown and forgotten films. She also extensively writes and talks about cinema, treating it as a means of communication and a tool to broaden knowledge about the world. Conceptualizes, seeks connections, and explores films, focusing on the perspective of their audience. She is preparing a doctoral dissertation on Amateur Film Clubs from the communist era and carries out research, cultural, educational and social projects with the use of films and new media. She runs the Filmamatorski.pl website and works at the National Film Archive — Audiovisual Institute.
Jiří Horníček — is a film historian and curator, who has worked at the NFA since 1999, where he is responsible for the collection of amateur films and home movie. He actively publishes in domestic and foreign professional journals (e.g., Film History and Iluminace). He also participates in film conferences (e.g., NECS 2013; Inedits 2014; Cold War on Film: Then and Now, 2014; e-nedits conference 2020) and in the presentation of Czech amateur films for festivals and special film programs (e.g., Orphan Film Symposium, Jihlava IDFF). He is the author of the monographs: Gustav Machatý. Touha dělat film (Gustav Machatý. The Desire to Make Films, 2011), Ludvík Šváb – Tidy Up After I Die (2017).
Translation into Polish sign language.
The project is co-financed by the Governments of Czechia, Hungary, Poland and Slovakia through Visegrad Grants from International Visegrad Fund. The mission of the fund is to advance ideas for sustainable regional cooperation in Central Europe: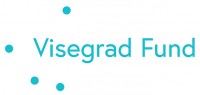 event accompanying the exhibition
Cold Revolution

Central and Eastern European Societies in Times of Socialist Realism, 1948–1959

The curators of the exhibition undertake a critical reflection on the changes taking place at that time, illustrating their scale and dynamics using visual material from the fields of painting, photography, film, design and architecture. It includes over 400 works from six countries of the former Eastern Bloc: Poland, Czechoslovakia, East Germany, Bulgaria, Romania and Hungary.

Zachęta – National Gallery of Art

Zachęta