Artist: The Professional
Kamila Bondar and Maria Świerżewska from the ING Polish Art Foundation talk to Marta Miś
18.07.2022
Since 2017, the ING Polish Art Foundation has been implementing the project Artist: The Professional, which is aimed at young artists. Where did the idea for the programme come from?
Kamila Bondar: While working at the Foundation, I was often invited by art academies to talk to students about how to write applications and obtain grants. After the lectures, I would get a lot of questions. That's when I realised how much they hanker after the kind of practical knowledge that the university simply doesn't guarantee them. At the same time — as a foundation that builds a collection of Polish art — we felt that even though we offer support to artists of different generations, it is the youngest generation that gets the least help. That's why we started to look for an idea on how to change that and give real support to young visual artists. Originally, the programme aimed to teach practical skills how to operate on the art market was supposed to be based only on collaboration with art academies, which would eventually would 'absorb' the knowledge base that we had built up over the years. Today I don't think that is going to happen anytime soon. Art academies show some interest in the subject, but still more theoretically. For example, the curricula include courses such as cultural management. For a young person who needs to organise their working life after university, this knowledge is of little practical use.
How did you go about implementing this programme?
KB: Our idea was to build Artist: The Professional based on two scenarios. The first one, in which the artist quickly gets the support of the gallery that nurtures their development, manages their career and sells their works. The second scenario was aimed at people who do non-commercial projects (including collective actions) based on grants, residencies, and visits. Later, we realised that galleries take very few people under their wing, so we put a lot of effort into identifying these paths over the next years. A very important role is played here by artists who invited to talk about their work and share their personal experiences and practical tips. That is why we want to show very diverse examples and different artistic attitudes. At the same time, we look at the artistic community and look for the most interesting examples of how artists function, self-organise, and combine different roles. Over the years we have come to one conclusion: things are not easy for artists.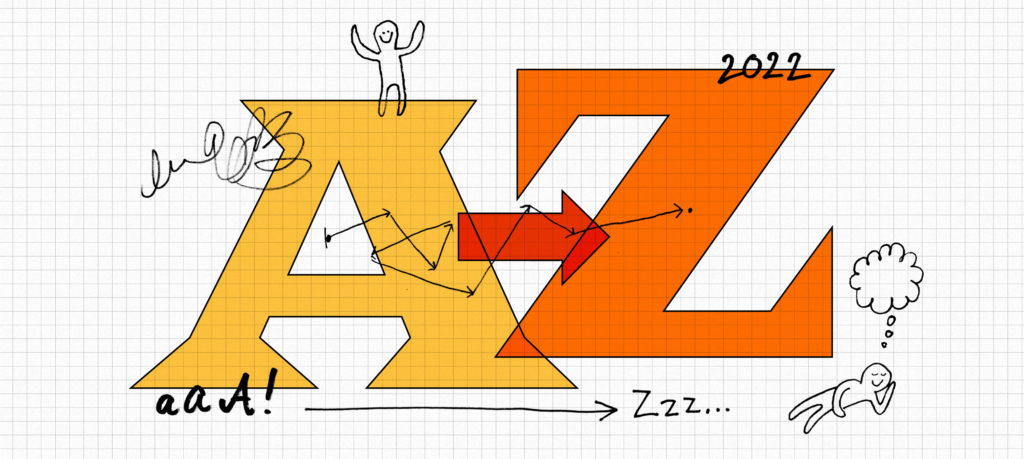 Initially, your role was to organise groups of experts visiting universities.
KB: Yes. And to this day, expert input is of utmost importance. Before each edition of Artist: The Professional we meet with the lecturers and prepare a detailed curriculum of classes to determine not only their scope, but also to ensure that the subjects are mutually complementary.
Have you identified a model target audience for your programme?
KB: Initially, we assumed that the programme will be attended by final-year students. However, after the first edition, when junior students came knocking on our door, we realised that was a wrong assumption — everyone interested, including university graduates, should be eligible to participate. First, we limited admissions because we assumed the participants would find it easier to open up, to get to know the experts (and vice versa), to interact in a smaller group. This was not the case, there was this 'schoolish' trait — the participants would listen as if at lectures, so that more people were able to attend these meetings. Later, we introduced workshop elements carried out in smaller groups, e.g. about creating a portfolio or writing about one's work. It turned out that the workshop participants were at very different stages in their lives: some did not yet know what they wanted to do, while others were fully aware and had concrete plans. That's why we abandoned this formula.
And what did it evolve into?
KB: Into our summer school. It is attended by ten persons that we select and who do something worthwhile being at a point in their career when they need to build a network of contacts, for example with other people who do similar things. We don't select the best participants, only those whose work fits in with the objectives of our summer school programme for the year.
Maria Świerżewska: The pandemic brought about a key change. After three editions of the project, which were based on visits at universities, the fourth edition, in 2020, coincided exactly with the first lockdown. Within a week, we had to change the formula from on-campus to online. Paradoxically, this was a shot in the arm, as the change helped broaden the audience significantly. And that includes not only students or recent graduates, but also people who resume their artistic activity after a long break or simply want to broaden their knowledge. We have become inclusive. This year over 1,000 people have taken part in the project, although we broke the record last year, with over 2,000 participants. Now the programme consists of three components. We have a lecture section with about 10 lectures. Then there is the face-to-face section, i.e. portfolio tutorials. Each year, that means 200-250 thirty-minute online one-on-one meetings with an expert. The third element is the summer school that we've already mentioned.
Does the expert group change every year? Does it have a fixed core?
KB: The group tends to change, although some people may have taught the course twice or we may ask some to talk about a different subject in the next series. For example, last year Magdalena Komornicka told participants about the curator's perspective on working with an artist, and this year she and Marianna Dobkowska wrote a lecture on preparing a portfolio for a meeting with a curator. By the way, this is the topic of most interest to participants — how to prepare for a meeting with a curator, gallery owner or collector.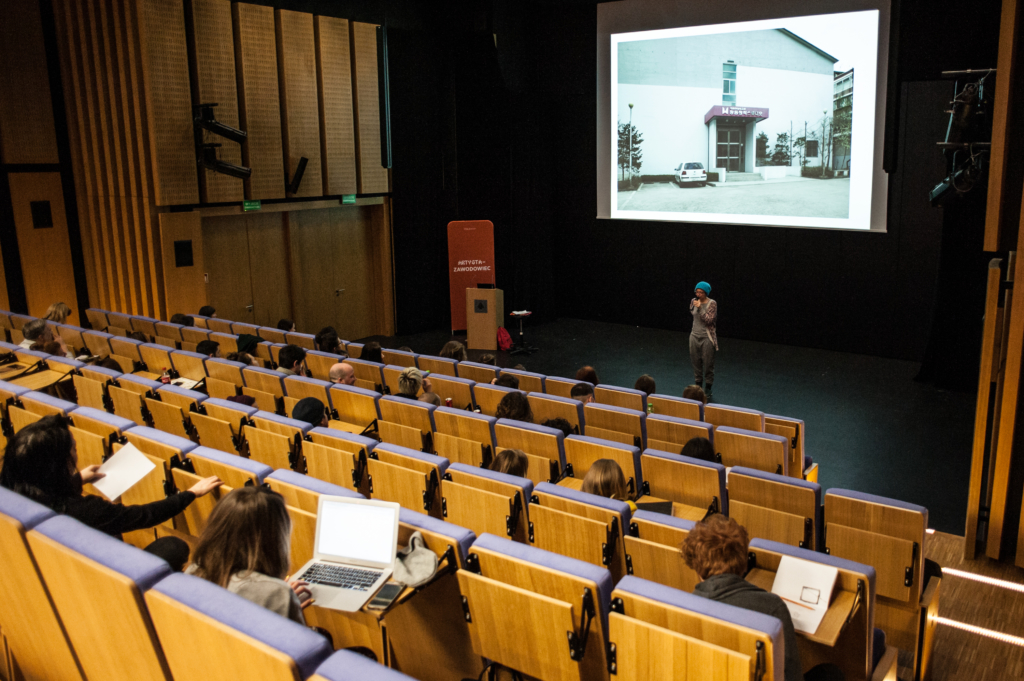 What other topics keep coming back?
KB: Selling works. This is also a problem that interests artists. This year we asked Łukasz Gorczyca to talk about it from the perspective of artists who have no support and are at the beginning of their journey. Łukasz has prepared a number of practical examples on how to get started, how to build your base of contacts and how to make your first sales. So we can say that themes form the programme's backbone. They also deal with questions related to the organisation of life — contracts, accounting, taxation, but also the organisation of studios or first exhibitions. The latter issue is discussed from different perspectives, such as collective or producer's work. In the previous edition, an excellent lecture was prepared by Szymon Żydek, who showed the exhibition production process both from an individual and institutional perspective.
MŚ: We also see great interest in residency programmes and grants. This year we also talked about alternative arts education, with Tomek Pawlowski discussing the various options for non-academic education.
KB: For several years, we also kept repeating the topic of going abroad or operating abroad. Then we would invite artists who already moved abroad during their studies and ask them to share their experiences, or we talked about the various travel options and how to organise them on one's own. The issue of particular interest for the participants is how to operate online, something where it's difficult to give simple recipes, because what matters above all is originality and exceptional determination. But this effort may pay off.
Do the artists invited as experts offer master classes?
KB: Rather friendly advice. You could see that clearly, for example, during Mikołaj Sobczak's lecture, when people asking questions expected his support. Generally, each meeting includes a lecture section and a Q&A session. It was only thanks to the online formula that we managed to achieve what we wanted so much from the very beginning — interaction.
MŚ: By having the opportunity to ask questions in the chat, the participants open up and ask a lot of questions.
KB: In this way we also know what concerns them and what issues we can add to the programme in the future.
What remains after the previous editions?
MŚ: The knowledge base. In the first on-campus editions, the lecturers were asked to prepare texts — supplementary materials for their classes (they continue to do so until today). But in the online formula all the meetings are recorded and shared. This material is already so broad that we are revamping our website this year to make it easier for users to navigate through this knowledge base and find topics of interest. Often — either as questions asked during lectures or in evaluation surveys — they suggest some topic to be discussed which has been already addressed and is available on the website!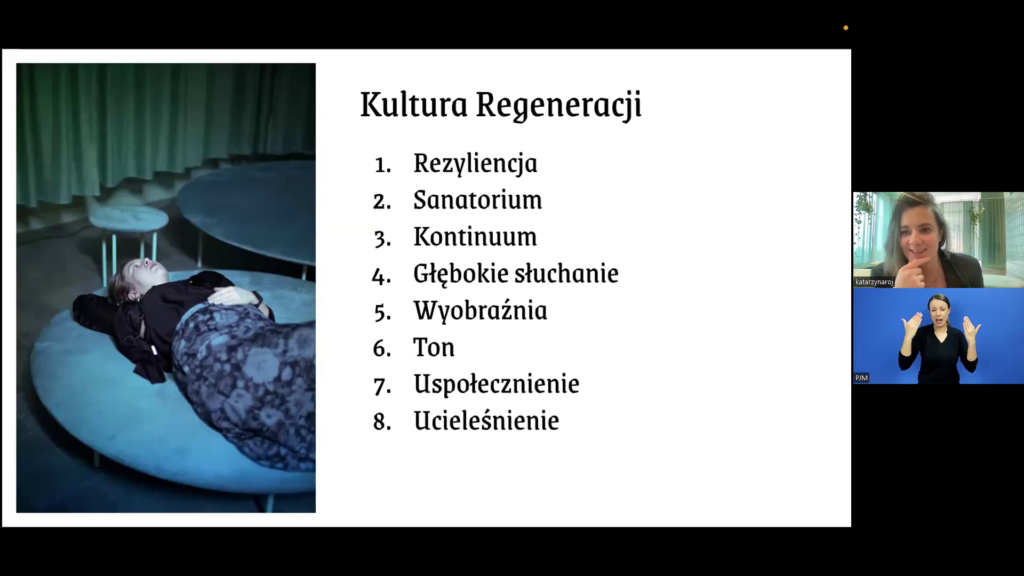 Has the programme Artist: The Professional somehow have any impact on the ING Foundation collection itself?
KB: In a way, yes. During tutorials, we look through a lot of portfolios and then we look at the artists that we found interesting. In two cases, this resulted in purchases of works for our collection after a couple of years.
MŚ: Portfolio tutorials were a great idea showing the diversity of artistic attitudes — also from the expert's perspective. Actually, many of these experts invite artists that they have met during portfolio tutorials to collaborate with them and work on projects. And they recommend our participants to others.
KB: For example, this year we are going to present a selection of the most interesting portfolios to the BWA galleries and the persons that we believe should see them.
Are the project participants aware the realities of the world of art?
KB: The reason why we do this project is first and foremost to oppose the harmful stereotypes that still exist among artists. Even though the world is getting more and more modern and we are getting more and more modern and professional along with it, art academies still cultivate the romantic myth of the artist waiting for the world to take an interest in him or her. We show real mechanisms that govern the world of art. We talk about the art market, but also about how the artist functions in the society. For the participants, especially the youngest ones, this often comes as a shock. On the other hand, those who are slightly older react differently and focus on our offer of 'learning how to fish', i.e. on learning how to succeed in the world of art and the art market. In Poland, it is not seen as appropriate to talk about money, and we encourage our experts to share this information too.
The Foundation is a partner of Magdalena Komornicka's exhibition The Discomfort of Evening — showing the young Polish art scene. How did your collaboration on this project begin?
MŚ: The Foundation has been working closely with the Zachęta since the very beginning, so it was obvious and natural that our interest in young Polish art would bring us together. Among those invited by Magdalena to participate in the exhibitions were also artists that she met during portfolio tutorials. And she admits that it was an important part of her research. Also there have been several exhibitions that we have created together over the last few years — our collection and the Zachęta collection complement each other perfectly well. This time, as many as 12 works from the Foundation's collection will be shown at the Zachęta. During our meetings, Magda also talked about her observations about the state of mind of the young generation, which in turn inspired us to look into this as part of the programme Artist: The Professional. We have decided to extend the application questionnaire for the programme adding questions about the mental condition, and this topic often has come up in conversations with experts.
KB: Art academies attract many highly sensitive people going who find it extremely difficult to come to grips with reality after graduation. We won't manage to solve their problems, but we can give them tools to succeed professionally.