Sarkis. Angel Rainbow
28.11.2017 – 18.02.2018 Sarkis. Angel Rainbow
Zachęta – National Gallery of Art
curators: Sarkis, Hanna Wróblewska
cooperation: Julia Leopold
coorganizer: The French Institute in Warsaw
main partner: Orange Poland
An exhibition of one of the most important classics of the 20th and 21st century art. Born Sarkis Zabunyan, in 1938 in Istanbul, Sarkis is an Armenian conceptual artist. He studied painting and design at the Mimar Sinan University in Istanbul, and since the 1960s has lived and worked in Paris. He was one of a dozen young artists invited by the curator and art critic Harald Szeemann to participate in the exhibition Live in Your Head: When Attitudes Become Form (Works — Concepts — Processes — Situations — Information), at the Kunsthalle Bern (1969), which presented a new vision of contemporary art.
In his work, Sarkis metaphorically touches on the most important problems of today's world. He is fascinated by both contemporary visual culture and the richness of tradition and history of non-European cultures, which have been excluded or marginalised for years. The basic elements in the structure of his works and ideas are constituted by the concepts of memory and identity.
As Andrzej Wajs puts it in the essay accompanying the exhibition: "The classic museum is a frozen memory, a contemplation of the past focused on itself. On the other hand Sarkis's studio is memory as development, where the trace often precedes what leaves it. [...] The artist contrasts the museum's immobility and frozen state with a constant journey. 'My works don't like to stay motionless', he says. And wherever he moves them, he takes into account the local context and colour of their presentation."
That is why, in collaboration with people working locally at the exhibition, the artist has built and manipulated three important elements of his work: light, word, and context of place. This Zachęta exhibition will present 21 sentences, selected by our team and hand-written in Polish by our employees, then made into neon signs. Hanging in the space of the exhibition rooms, they will accompany Sarkis's Rainbow, produced for this exhibition, which has appeared many times in his earlier works. The rainbow metaphor will also echo in a photographic installation from Istanbul, Angel Rainbow (after which the exhibition takes its title). In addition, the exhibition will feature the series Museum of LIFE COLLAGES.
"The history of a work of art (and consequently, memory) is a circle where the present and the future renew their contact with the moment of its birth," notes Wajs, characterizing Sarkis's work.
See how the neon's were made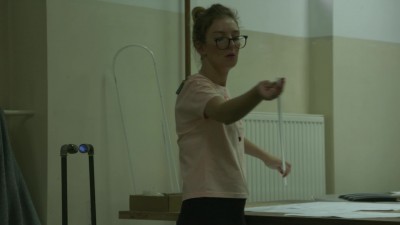 What Does an Artist Do? - family workshops for children with autism (in Polish)

Zachęta – National Gallery of Art

Zachęta

Accessible art. Guided tour for the blind (in Polish)

Zachęta – National Gallery of Art

Zachęta

Why do artists need a studio?

Film screening and meeting with professor Andrzej Pieńkos (in Polish)

Zachęta / cinema room (entrance from Burschego street)

cinema room

Zachęta Signs! Guided tour for the deaf ( in Polish Sign Language)

Zachęta – National Gallery of Art

Zachęta
Information
Sarkis.
Angel Rainbow
28.11.2017 – 18.02.2018
Zachęta – National Gallery of Art
pl. Małachowskiego 3, 00-916 Warsaw
See on the map
Godziny otwarcia:
Tuesday – Sunday 12–8 p.m.
Thursday – free entry
ticket office is open until 7.30 p.m.
Sponsor of the opening ceremony: