Joanna Rajkowska Rhizopolis
01.02 – 08.08.2021 Joanna Rajkowska Rhizopolis
Zachęta – National Gallery of Art
curator: Aneta Szyłak
collaboration from the part of Zachęta: Michał Kubiak
academic collaboration: Urszula Zajączkowska
exhibition design: Michał Rudnicki
exhibition production: Anna Muszyńska and Andrzej Bialik, Dariusz Bochenek, Mateusz Korycki, Remigiusz Olszewski, Grzegorz Ostromecki, Paweł Ostromecki, design studio "Pracownia" (Mateusz Czapi, Jędrzej Iwanicki, Michał Szwaczyk, Piotr Wierzejski)
Rhizopolis introduces us to the world of a hypothetical future of humanity on planet Earth after the anticipated great catastrophe that will end the current human era. In the Anthropocene, we have come to realise that the world has changed irreversibly, and its survival, including that of the human species, is called into question. Faith in continued progress has collapsed, and our conviction of a purely positive and unidirectional development of civilisation has proved unfounded. In the face of a pandemic that has shown that man-made systems and structures do not have the desired efficiency and effectiveness, the sense of a predictable future that can be planned and realised is an illusion. We are experiencing weakness, illness, loneliness and uncertainty on a global scale. Rhizopolis offers those who survived 2020 the opportunity to envision their own survival scenarios, in preparation for the collapse of the world as we know it.
Rhizopolis is a set design built for a futuristic film. Its scenario, outlined by Rajkowska, is a proposal for radical dependence, in which nature, previously dominated by humans, transpires to be a sanctuary in its unshakeable persistence, providing what is necessary to sustain human life. When we visit the exhibition, we enter an area of both artistic installation and set design for a film in which we ourselves act, and to which we may one day find ourselves writing sequels.
In its material dimension, Rhizopolis is an underground city created — according to the concept's scenario — underneath a forest by desperate refugees from the surface of the Earth. The fictional film provides a chance to get closer to the mysterious, quiet, underground world, to the life of tree roots and a last chance habitat. Perhaps this will permit us to think of the idea of the 'underground' as a hope for survival. After all, with this project, we, the audience, are going underground to rethink the place of humanity and its fundamental dependence on the habitat that makes our lives possible. It is an invitation to a parallel world about which, despite extensive study, we know very little, but which could hypothetically become our refuge. Perhaps it could also initiate the building of more organic relations with nature.
In the exhibition, we will find threads of deep ecology and a reflection on the functioning of humanity in nature not as its organiser, but as a component. In addition to references to areas of scientific knowledge, biology and the ecofeminism of Donna Haraway, there are also elements of tacit, non-systemic knowledge, such as the Amerindian concept of nature and mythologies based on harmony and organic interaction between human and non-human organisms.
Aneta Szyłak, exhibition curator
The creators of the exhibition emphasise that no trees were cut down for the purposes of Rhizopolis. The tree stumps used in the project were rescued from being chipped and burned in furnaces.
Joanna Rajkowska (born 1968) — author of objects, films, installations, actions and interventions in public spaces, sculptor and photographer. She studied painting at the Academy of Fine Arts in Krakow and art history at the Jagiellonian University. She is a versatile artist, using diverse media. In the public space, she uses real locations, energies, organisms and materials. The best known are her projects realised in Warsaw — Greetings from Jerusalem Avenue (since 2002), the main element of which is an artificial palm tree on the Charles de Gaulle Roundabout, organising one of the symbolic axes of the city, and Oxygenator (2006–2007) in Grzybowski Square — an anti-memorial to trauma in the form of a pond with a cloud of ozonised air, built on the edge of the former Jewish ghetto
---
Joanna Rajowska at the exhibition Rhizopolis, 2021, photo by Monika Stolarska
Rhizopolis. Film (in Polish)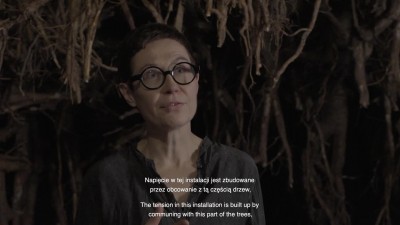 Rhizopolis. Video guide in Polish Sign Language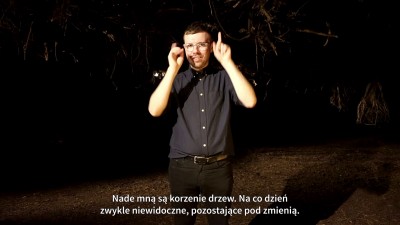 Fiction will save us. Joanna Rajkowska and Urszula Zajączkowska in conversation (in Polish)
Information
Joanna Rajkowska
Rhizopolis
01.02 – 08.08.2021
Zachęta – National Gallery of Art
pl. Małachowskiego 3, 00-916 Warsaw
See on the map
Godziny otwarcia:
Tuesday – Sunday 12–8 p.m.
Thursday – free entry
ticket office is open until 7.30 p.m.