Ahmed Cherkaoui in Warsaw Polish-Moroccan artistic relations (1955-1980)
10.03 – 02.08.2020 Ahmed Cherkaoui in Warsaw Polish-Moroccan artistic relations (1955-1980)
Zachęta – National Gallery of Art
artists: Roman Artymowski, Mohamed Ben Said, Ahmed Cherkaoui, Helena Cygańska-Walicka, Mustapha Derkaoui, Abdelkrim Derkaoui, Azzedine Douieb, Anna Draus Hafid, Abdellah Drissi, Mustapha Hafid, Irena Jarosińska, Idriss Karim, Najib Kheldouni, Grzegorz Kowalski, Abdelkader Lagtaa, Alfred Lenica, Zbigniew Makowski, Mohamed Melehi, Andrzej Partum, Ewa Partum, Barbara Pniewska, Erna Rosenstein, Aziz Sayed, Henryk Stażewski
curators: Sara Lagnaoui, Przemysław Strożek
collaboration: Ewa Mielczarek, Aleksandra Szklarczyk
exhibition design: Aleksandra Dobrowolska-Grobel
Ahmed Cherkaoui is widely recognized as a pioneer and one of the most prominent representatives of Moroccan contemporary art. At the beginning of 1960s he spent a year in Warsaw, studying at the Fine Arts Academy, and his stay in Poland turned out to be a breakthrough in his painting career.
"'Cherkaoui's real entry into the world of modern art took place in Warsaw, thanks to Stażewski".

wrote French poet and art critic Jean-Clarence Lambert.

Focused on the exploration of matter painting, the Warsaw period heralded the artist's later experiments in abstract art, replete with references to traditional Berber culture and religious motifs of Islam, as well as to Polish and French avant-garde.

Ahmed Cherkaoui's works from this period return to Warsaw after almost sixty years, for the exhibition at the Zachęta. They are a starting point for tracing a multitude of themes related to the works of Moroccan artists in Poland, Polish artists in Morocco, and their mutual contacts. Since the mid-1950s until the beginning of the 1980s, a dozen or so Moroccan students were studying in fine arts academies in Warsaw and Cracow and in the Łódź Film School.

The Polish-Moroccan art relations presented at the exhibition appear to be an important testimony to transcontinental cultural exchange during the Cold War. They show Warsaw, Łódź and Asilah as an international melting pot and important crossroads of Slavic, Arabic and Berber cultures. In all these artistic projects – outcomes of meetings between Moroccan and Polish artists – one can observe the need to look for new expression in various fields of art: painting, film, conceptual art, and printmaking. A deeper analysis of these relations will give us a better insight into the transformations on the global map of art. And, surprising as it may look from today's perspective, the idea of a Polish-Moroccan cultural get-together has proved to play an important role here.

---

Ahmed Cherkaoui and Henryk Stażewski. Photo: Irena Jarosińska/Ośrodek KARTA
Sara Lagnaoui
cultural mediator and graphic designer. She has worked as an assistant at the Voice Gallery in Marrakesh and the Museum of African Contemporary Art Al Maaden (MACAAL), the first contemporary art museum in Morocco. Recently, she worked on the Kinderbiennale at the Staatliche Kunstsammlungen in Dresden.
Przemysław Strożek
assistant professor at the Art Institute of the Polish Academy of Sciences, researcher at the Archiv der Avantgarden in Dresden, curator of exhibitions, author of scientific books on art history. Recipient of Fulbright and Foundation for Polish Science fellowships. His research area includes studies of the avant-garde, global modernism and contemporary art.
Exhibition guide in Polish Sign Language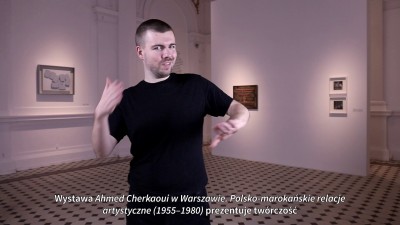 Information
Ahmed Cherkaoui in Warsaw
Polish-Moroccan artistic relations (1955-1980)
10.03 – 02.08.2020
Zachęta – National Gallery of Art
pl. Małachowskiego 3, 00-916 Warsaw
See on the map
Godziny otwarcia:
Monday – Sunday 12–8 p.m.
Thursday – free entry
ticket office is open until 7.30 p.m.
Registration
FACEBOOK
Register with facebook
Thank you for your registration!
We have sent to your email address a link with a confirmation of registration.
Please click on the link in order to fully activate your account.

After registering on the service, you can add events and exhibitions that are important for you to your favourites. To your list of favourites you can also add objects from the collection, and from amongst the publications and multimedia library which we make available on our open Creative Commons licence. As a result you can download publications, books, films and many other materials.

Shortly you will be redirected to main page