Meta... Performance 1471- ? ver g
type of object: print
date: 1984/1985
material/technique: silkscreen on newspaper
dimensions: 55 cm x 39,5 cm
inventory No.: G-2437
image licensed under: CC BY-SA
Towards the end of the 1960s, Andrzej Dudek-Dürer began a life-performance,
which has lasted to this day, combining themes of life and art, in which
an inseparable element is identification with the figure of Albrecht Dürer,
from whom the Wrocław-based artist has adopted his pseudonym. Apart
from spiritual and artistic affinity, they also share a strong physiognomic
similarity. Dudek-Dürer and the master from Nuremberg are also linked by
reaching for the self-portrait, worked in various ways, as well as mastery
of skills in using graphic techniques. The Wrocław artist's works on paper
take up the theme of incarnation and contain motifs drawn from Dürer's art,
and the subject himself, travelling in space and time, appears in them as
a multiplied figure or only a fragment of it — such as an eye. Works created
using graphic techniques are a record of his conceptual and performative
interests.
Financed by the Minister of Culture and National Heritage from the Culture Promotion Fund within the 'National Contemporary Art Collection' programme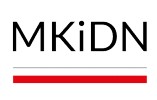 Other works by artist in the Zachęta collection