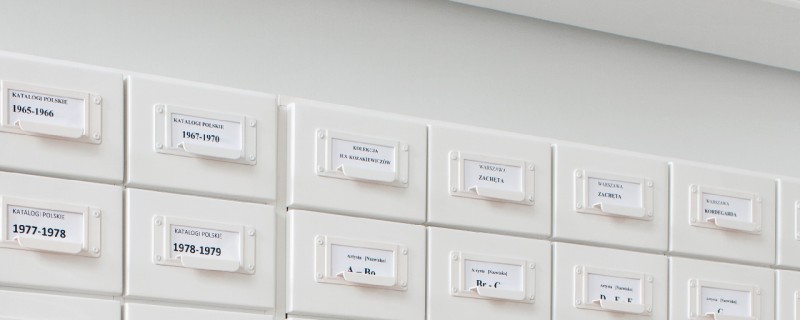 Documentation and library
Zachęta's Documentation Department keeps one of Poland's largest collections of catalogues and other materials documenting Polish artistic life after 1945. Since 1950 it has been collecting documentations of exhibitions presented at the Zachęta and Kordegarda galleries (the latter as Kordegarda Project since April 2010 and as the Zachęta Project Room since April 2012) and of other artistic events organised by the gallery. This includes a photographic archive of the exhibitions staged by Zachęta since 1950. The Documentation Department also collects materials about post-1945 Polish artists, to which new names are systematically added. It also keeps a collection of exhibition catalogues published by the Zachęta – National Gallery of Art, publications (reports, guides, catalogues) of the prewar Society for the Encouragement of the Fine Arts, and publications and documents of the Central Bureau of Artistic Exhibitions.
The Library, which is part of the Documentational Department, collects books on 20th- and 21st-century art and humanities, catalogues of exhibitions held in Poland and abroad (from ca. 1900 to the present) as well as Polish and international periodicals devoted to modern and contemporary art. Documentations of Polish artists and information about Zachęta's exhibition programme are available in the Reading Room. The Library conducts interlibrary exchange of materials with Polish and international cultural institutions.
DOCUMENTATION AND LIBRARY

Tuesday – Thursday, 10 a.m. - 4 p.m.
Library is located on the 1st floor (enter through the exhibition halls)

Visiting the library is possible only after prior appointment with our staff.

pl. Małachowskiego 3, 00-916 Warsaw
Contact
DOCUMENTATION DEPARTMENT
Karolina Vyšata – head of documentation and library department ; tel. 22 556 96 41 Marta Korzekwa ; tel. 22 556 96 40 Halina Matviyenko ; tel. 22 556 96 72 Zuzanna Sękowska ; tel. 22 556 96 41 Lena Król (współpraca)
Natalia Gawryś (współpraca) Olga Grześko (współpraca)
LIBRARY