Liliana Porter. Situations
09.02 – 05.05.2019 Liliana Porter. Situations
Zachęta – National Gallery of Art
cuartor: Magda Kardasz
cooperation: Michał Kubiak
exhibition design: Jacek Malinowski

The exhibition of works by Liliana Porter at Zachęta is the first presentation of the work of this outstanding artist of such scope in Poland. She was born in 1941 in Argentina, studied art in Buenos Aires, Mexico City, and then in New York, where she has been living and working since 1964, while remaining present on the Argentine art scene.
At the beginning of her artistic career she devoted herself to graphics. The theme of disturbance in the distinction between an object and an image appeared in her art already at that time. In 1965–1970, along with Luis Camnitzer and José Guillermo Castillo, she ran the experimental New York Graphic Workshop.
Her mature style developed since the 1980s, when she began to include old toys, kitschy figurines, souvenirs or everyday objects found at flea markets or antique shops in her artistic practice. They became the main staples of her installations, models portrayed with the help of a camera, actors recorded on film history. The artist also creates drawings, collages and paintings. One of the most important themes of her art is the criticism of the representation and, at the same time, telling an ironic story about the constant need to reconstruct the reality (the problem of the original and copies, duplication of the image, putting on masks).
In many of her works, she plays with altering time, while emphasising the inevitability of its passing. Characters from different places, epochs and levels of reality and inventions meet in her works and enter into dialogue. There is also a frequent theme of line, road and travel, which is a metaphor for life. The special way of recording makes its protagonists no longer be kitschy ornaments. Under the influence of the empathic gaze of the artist and then the viewer, they come to life, acquire individual personal traits, and become carriers of various existential stories. The situations, dialogues and catastrophes staged by Porter tell the story of human condition and ordinary life. They prove that ideologies are devalued, idols pass away, and popular culture today puts historical heroes and popculture celebrities on an equal footing.
The author writes: 'I am interested in the simultaneity of laughter and despair, banality and possible meanings'. It is particularly present in the world of contemporary media (including social media), where reports from catastrophes or socio-political breakthroughs are interrupted by banal advertisements, and high art is adjacent to kitsch.
At the exhibition, we present works from various periods of Porter's work. There are several early prints, including those awarded at the 1986 International Print Biennial in Kraków, a group of installations, photographic and painting compositions from the last 20 years and films. We also show a record of the performance Them (2018) from The Kitchen in New York, featuring inanimate and human actors. In recent years, Porter has been working with Ana Tiscornia and Sylvia Meyer (music) on films and theatre productions.
Liliana Porter's work has been influenced by various trends in art — surrealising metaphorical art, minimalism, pop art, conceptualism — but she remains a separate artist with a very characteristic (one might say, youthful) style and bitterly witty vision of the world, a creator of small worlds.
Exhibition guide in Polish Sign Language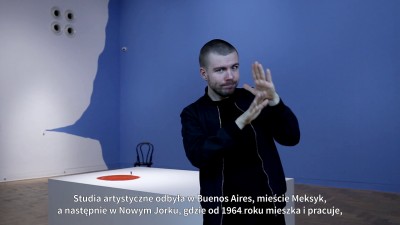 Miniature world. Workshops for children with autism (in Polish)

Zachęta – National Gallery of Art

Zachęta

Workshops for teens and adults with autism (in Polish)

Zachęta – National Gallery of Art

Zachęta

Zachęta Signs! (in Polish Sign Language)

Zachęta – National Gallery of Art

Zachęta

Accessible art. Guided tour for the blind (in Polish)

Zachęta – National Gallery of Art

Zachęta

Zachęta Signs! Family workshops (in Polish Sign Language)

Zachęta – National Gallery of Art

Zachęta
Information
Liliana Porter. Situations
09.02 – 05.05.2019
Zachęta – National Gallery of Art
pl. Małachowskiego 3, 00-916 Warsaw
See on the map
Godziny otwarcia:
Tuesday – Sunday 12–8 p.m.
Thursday – free entry
ticket office is open until 7.30 p.m.