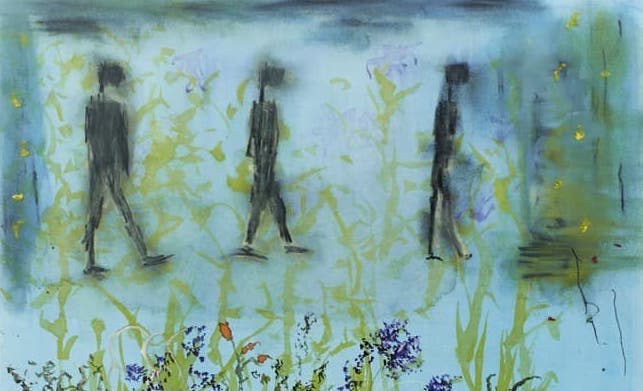 No. 5
"If I had not played music, it would have taken me longer to get to the core of what I am doing in painting. A way of discerning what is real in the work. It can also give one the ability to be more daring. . . . Not to be afraid to have a sense of play and to approach a painting with a kind of controlled abandon," said John Lurie in 2015. The exhibition of paintings by the famous American musician, also known in Poland thanks to Jim Jarmusch's movies, was prepared at the Zachęta by Stanisław Welbel and Karolina Sulich. You can read about the artist's journey from creating music to painting in the interview that the curators conducted with him, which opens the latest edition of our on-line magazine.
Thanks to the exhibition I'm trying to think. Please be quiet we come to see another face of John Lurie. In this edition we show various examples of the interpenetration of visual arts and music. From among many "musical" works in our collection, we revisit Guitar by Krzysztof Zarębski – an object from 1988 in which the artist placed sound-carrying media, such as magnetic tape and vinyl records as a symbolic recording of music. Music was also an important element in Katarzyna Kozyra's series In Art Dreams Come True. In Cheerleader, a music video made as part of this series, the artist performs Gwen Stefani's song What Are You Waiting for?, referring to the space of pop culture and playing with the clichés of femininity and masculinity.
One of the first exhibitions at the Zachęta that dealt with music and visual arts was Invasion of Sound (2009), curated by Agnieszka Morawińska and François Quintin. In turn, The Artists festival, initiated in 2013 and held outside the gallery's main building, was devoted to sound projects of visual artists (curators: Katarzyna Kołodziej, Magdalena Komornicka, Stanisław Welbel). Four editions of the event had been organized until 2016, and we'd like to invite you to listen to the CD recorded during the first edition. The performers include the music bands Gówno, Kashanti, Cipedrapskuad as well as Anna Zaradny, Wojciech Bąkowski and Konrad Smoleński.
Music had to be present also at two exhibitions of contemporary Brazilian art prepared at the end of 2013 and the beginning of 2014 by Magda Kardasz. In particular, the project's edition held at the Zachęta Project Room focused on the dangerous liaisons between visual arts and music, which was clearly signalled by the exhibition's title – Brasil: arte / música. Please take some time to read the folder accompanying the exhibition and the curator's text. And, of course, you will find all our recommendations at zacheta.art.pl!