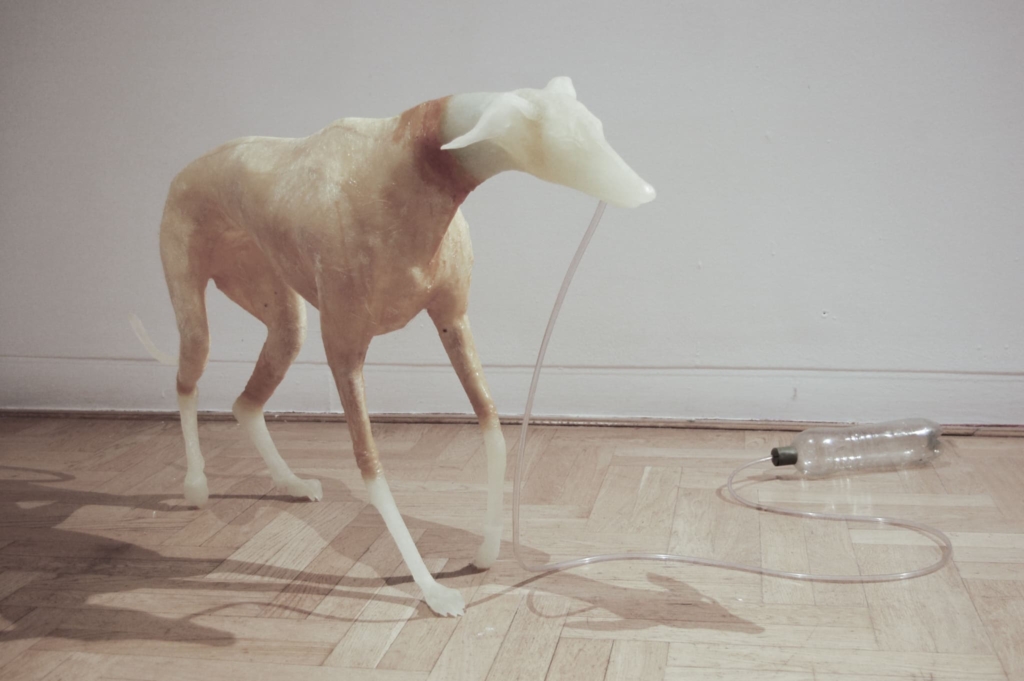 No. 16
"Every day, for the past two months, I've been coming up to these photos. And then I quickly move away. I need some air. It's hard to breathe around them. Just like in an old house of even older people that nobody cleans any more. These prints smell of disease, drugs, steel, zoos, and hay full of manure on a hot, stuffy day" – Mira Marcinów writes about a series of photos by Joanna Piotrowska documenting animal cages and enclosures. Her essay Cage and Play opens the sixteenth issue of the Zachęta Online Magazine, devoted not only to animal themes.
In 2014, at his individual exhibition A Drama Feature Film of Polish Production, Kuba Dąbrowski presented a subjective selection of photos that tell a story about himself and his environment. Out of a dozen or so works included in the Zachęta collection, we have picked the photo of a barking dog behind a wire fence. In 2005, Katarzyna Kozyra played the role of Lou Salome. From our film collection, we recommend the documentation Teatro di cani. Lou Salome a Roma – and event featuring obedience training of dog-philosophers by an artist-dominatrix attended by… dog owners and their pets.
Thinking about animals at the Zachęta, we cannot forget about the exhibition All Creatures Great and Small (2009). Its curator, Maria Brewińska, focused on the theme of animals using works of art to try to challenge the dominance of anthropocentrism in contemporary culture. Also worth watching is another episode of Zachęta TV produced on the occasion of this exhibition. All creatures Great and Small, or Is the Curator a Predator? is not only an interesting story about the exhibition, but also about the curator's job.
A symbol of oppression, the cage is inevitably associated with prison in the human world . In 2005, Hanna Wróblewska prepared the exhibition Panopticon. The Architecture and Theatre of Prison at the Zachęta, with works by Giovanni Battista Piranesi displayed along the works of contemporary artists. We recommend two essays from the catalogue accompanying this exhibition: "Thank God! Civilization!" by Wróblewska and "Foucault vous parle…" by Andrzej Wajs.