The Artists Visual Artists' concerts and sound projects. 3rd edition
The Artists Visual Artists' concerts and sound projects. 3rd edition
artists: ADU (Ada Karczmarczyk), Dick El Demasiado, Duane: The Brand New Dog, Fransua I Benua + Igor Krenz, I.H.N.A.B.T.B, Langfurtka (Mikołaj Trzaska + Adam Witkowski), Reines Girls, Elbis Rever, Szelest Spadających Papierków, Suzanne Walsh, Wixapol S.A.
curators: Katarzyna Kołodziej, Magdalena Komornicka, Stanisław Welbel
with: Karolina Iwańczyk
The Artists is a festival dedicated to music and sound projects and the visual arts, but taken outside the gallery's interior space. The title brings to mind popular band names such as The Cars, The Beatles and The Doors, evoking associations with the star-studded world of pop music and the mechanisms that govern it. The programme of this, the third international edition of the festival includes a wide array of on-stage expression, ranging from punk, pop and rock, through folk to electronic, experimental, and noise music. The artists invited all regularly give concerts, record music and videos, take part in important international festivals, and have their music played on the radio. This year, the Sowiński Park amphitheatre will see such personalities as Dick Verdult, known by his stage name Dick El Demasiado, who plays cumbia, a musical genre popular in South America; Reines Girls – an Israeli post-punk rock n' roll guitar band; the all-girl band Rever Elbis, which is inspired by the music of the 1980s; Suzanne Walsh, a singer who combines elements of opera with traditional Irish singing, as well as Duane: The Brand New Dog from Detroit, self-appointed as the future of pop. This year's programme also includes a performance by the precursors of Polish avant-garde and noise music – Szelest Spadających Papierków – a cult band associated with the Gdańsk Totart art group in the 1980s. Mikołaj Trzaska and Adam Witkowski will perform an electroacoustic improvisation as Langfurtka, and festival attendees will be in for an unpredictable, dynamic performance by the uncompromising Russian punk band I.H.N.A.B.T.B as well as pop music superstar incarnate ADU, or Ada Karczmarczyk. The Artists festival fixture is a performance by Igor Krenz and Macio Moretti, who will open this year's festival with a special project and their usual wry sense of humour.
Line-Up
5 p.m. – Fransua I Benua + Igor Krenz
5.30 p.m. – Szelest Spadających Papierków
6.15 p.m. – Elbis Rever
7 p.m. – I.H.N.A.B.T.B
7.45 p.m. – ADU (Ada Karczmarczyk)
8.15 p.m. – Langfurtka (Mikołaj Trzaska + Adam Witkowski)
9 p.m. – Reines Girls
9.45 p.m. – Suzanne Walsh
10.30 p.m. – Duane: The Brand New Dog
11.15 p.m. – Dick El Demasiado
Afterparty at the Café Kulturalna
00.00 a.m. – Wixapol S.A.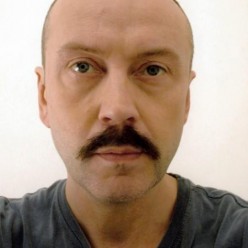 Fransua I Benua + Igor Krenz
Igor Krenz, who with Macio Moretti made his debut during the 2013 edition of The Artist as the NAPALM OF DEATH band with a spectacular two-second piece, a year later appeared with the Igor Krenz Warszawska Orkiestra Rozrywkowa. This year will see the third appearance of their conceptual and musical collaboration as Fransua i Benua, and together with Bartek Tyciński they will accompany a screening of the film Biały trójkąt.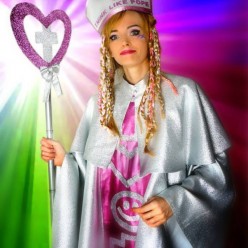 ADU (Ada Karczmarczyk)
Ada Karczmarczyk is a multimedia artist, performer, blogger, composer, and singer. In her work she freely combines elements of pop culture, spirituality, and art. Appearing under the stage name of ADU, she impersonates a pop music superstar. She records pop-style videos overloaded with Christian symbolism and inspired by the work of Beyoncé, Madonna, Lady Gaga, and Katy Perry. The artists sees her creative endeavours as an avant-garde style evangelising mission.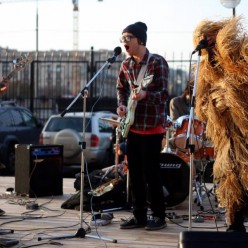 I.H.N.A.B.T.B.
I.H.N.A.B.T.B. was founded in the autumn of 2004 in Moscow. Since then, they have become known for their wild live shows, trying with each concert to make something new. They change instruments and clothes, wash their heads on stage, play raves while a lecturer discusses ancient Greece, wrap themselves around furniture and vegetables, grabbing their audiences to make them feel weird, not only a passive viewer but an active participant of the show. Musically, I.H.N.A.B.T.B. has founded their own language in strange rhythms, prickly guitars, groovy bass lines and the perfect mix of pop melodies with punk energy. The artistic collective, EliKuka, is also part of the band.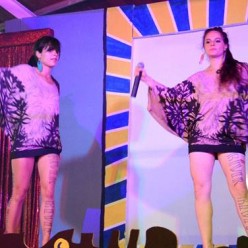 Elbis Rever
Elbis Rever is a band that was born in Warsaw in 2007. In the beginning, its line-up consisted of Faezeh Araee, Janina and Aleksandra McCormack, Natalia Vegas and Alba Burgos. Their music is an intuitive interpretation of pop, mixing different styles, without a pre-determined shape. The performative moment is very important for this band, who take care of their lives and play their songs in a karaoke style. Their image builds itself in the moment, showing at the same time rawness, seduction and vulnerability. During these last eight years the band has performed in the United States, Poland, France, Germany and Spain, trying to keep the idea of being an open band no matter where they are, giving concerts through webcam sites and inviting various artists to collaborate with them.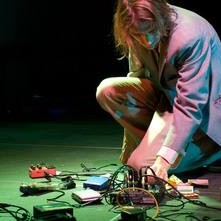 Szelest Spadających Papierków (Joanna Charchan, Sławek 'Ozzi' Zamojda and others...)
In the 1980s, the SSP's musicians were associated with the Gdańsk artistic group Totart, and were part of the local artistic underground. They are considered the precursors of Polish avant-garde and noise music. With a transient line-up and an ever-changing instrument set, the group has featured almost all of the important figures of the Gdańsk music scene, including Joanna Charchan, Sławek 'Ozzi' Żamojda, Krzysztof Siemak, Szymon Albrzykowski, Tomasz Ballaun, Paweł 'Konjo' Konnak and others. This legendary band has also marked its place in the history of popular music antics, thanks to such stunts as burning its sound equipment at concerts in Leipzig and the Łaźnia club in Gdańsk, while an SPP gig at the Buffet Club was stopped when the glasses started falling off the shelves onto the bartenders' heads.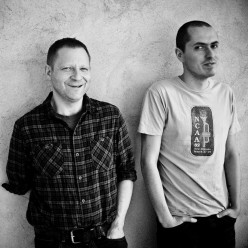 Langfurtka
Langfurtka is the sound project of two Gdańsk artists: Mikołaj Trzaska, who plays with the world's top free-form jazz musicians, and Adam Witkowski, a visual artist who sometimes sings with the bands Samorządowcy and Gówno. The name 'Langfurtka' comes from the German name for the Wrzeszcz district of Gdańsk (Langfuhr), where both artists live. The project is based on the reception and processing of the audiosphere of one's immediate surroundings – home, street, neighbourhood etc. This is the sound foundation for the pair's electro-acoustic improvisations. Their instrument set includes simple, often home-made analogue devices, saxophones and guitars.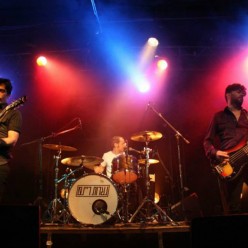 Reines Girls
Reines Girls ('Naarot Girls' in Hebrew) create original, loaded rhythmic rock n' roll with a touch of romantic punk from the 1970s. The bass player, Guy Goldstein and lead guitar and singer Roei Freilich, played together during the 1990s in Haifa. They founded the band as Naarot Reines, in 2004 in Tel Aviv, with the name taken from 1960s Hebrew slang for 'unattractive females' with whom one could hang out, back in the day, on Reines Street. Reines Girls are known as the leaders of the Israeli rock n' roll revival post-2000. In the last decade they have been awarded 'Best Rock Band of the Year' and 'Best Album of the Year' several times by Israeli magazines and radio stations.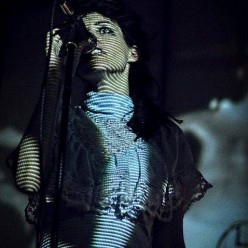 Suzanne Walsh
Suzanne Walsh is a visual artist, musician and writer from Wexford in Ireland. Her art involves writing, sound, acting, drawing and music, and often explores the animal world, fictional truths and re-wilding, with her work unfolding in an ongoing narrative. She also plays in various bands, often as a vocalist, and acts in performances that are often improvisational and experimental. Suzanne is interested in the idea of film scores that don't exist, faux-classical operas, music as ecosystems and singing as channelling/possession. She likes to build up intensities that can destabilise and fracture our sense of the everyday. She will be accompanied by musician Patrick Kelleher for this performance.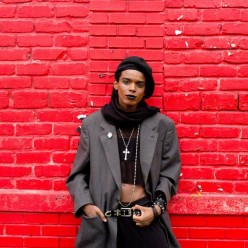 Duane: The Brand New Dog
An artist and musician based in Detroit. Duane represents the future of pop. Brand New Dog, Same Old Tricks is addictive pop with a funky bass line and electro grooves, from the same cutting-edge attitude in the city that birthed both Motown and techno. As he says, Duane is: the (former) teenage weirdo; the (current) brand new dog; the (future) commercial artist.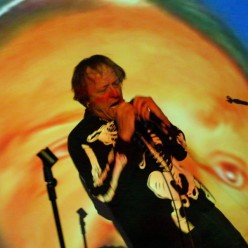 Dick El Demasiado
Dick Verdult's work encompasses film, performance, graphics, drawing, sculpture and ceramics, radio, text and music. As a visual artist and musician in the experimental Cumbia Lunaticas and Experimentales Music he acquired a cult status under his stage name Dick El Demasiado, especially in South America, Russia and Japan.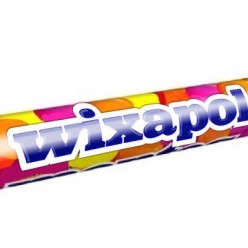 Wixapol
Wixapol SA is a musical-aesthetic-social project that uses the heritage of more than 20 years of history of extreme varieties of dance music and rave culture, with a particular emphasis on its Polish aspects. Wixapol confronts this area of interest with current phenomena, such as the post-Internet age, accelerationism, and redefinition of extreme techno culture peripheries.
The Artists

Visual Artists' concerts and sound projects. 1st edition

The festival The Artists is a summation of the most important sound and music projects of visual artists in Poland of recent years. It will bring together artists for whom work in sound is a constant and integral part of their artistic practice.

Muszla koncertowa w Parku Skaryszewskiego

Muszla koncertowa w Parku Skaryszewskiego

The Artists

Visual Artists' concerts and sound projects. 2nd edition

This year's edition of the festival will also feature mid- and older-generation artists, reactivated cult bands and the recreation of historic sound performances: we invite onto the stage idols of young generation sound artists, both Polish artists and those from UK, US and Israel.

Zachęta – National Gallery of Art

Zachęta

The Artists

Visual Artists' concerts and sound projects. 4rd edition

The Artists is a one-day festival devoted to music and sound projects created by visual artists. The artists invited to participate in this year edition were chosen in an open international competition, an open-call. By doing this we wanted to include in the programme numerous projects sent to us from the first edition, and to open the festival up to the younger generation of artists.

Reduta Banku Polskiego

Reduta
Information
The Artists
Visual Artists' concerts and sound projects. 3rd edition

Amfiteatr w parku Sowińskiego

See on the map
partners: Stefan Żeromski Culture Centre in Wola district, Warsaw, Embassy of the Kingdom of the Netherlands, Embassy of Israel in Poalnd, Polish Institute in Tel Aviv
sponsor: Argraf
media patronage: Gazeta Stołeczna, SZUM, Aktivist