Europe Beyond Access
An overall number of 82 works were submitted as part of the competition Europe Beyond Access.
The Judging committee comprising: Ewa Ayton, Katee Woods, Aidan Moesby, Hanna Wróblewska, Paulina Celińska, Daniel Kotowski selected three winning entries.
These are:
Jackpot by Nadia Markiewicz
Stories about Number One by Aleksandra Rogala
Contrast resonance by Katarzyna Żeglicka
The Judging committee and Organisers would like to stress the fact that the submitted art works were very diverse and very many of them truly interesting. An additional challenge of selecting the winning works stemmed from the lack of restrictions related to age, topic and technique used to create work.
Given the high quality of received entries, the Judging committee decided to give three honourable mentions, even though this wasn't stipulated in competition regulations:
Trains

by Piotr Drożdżak

Burundian

by Tomasz Grabowski

I Have the Right

by Maja Kowalczyk
Results of the "Europe Beyond Access" competition in PSL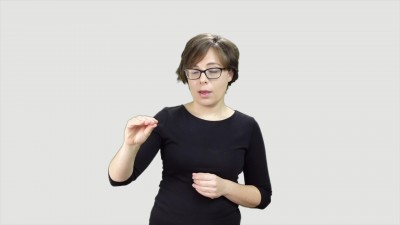 Read about the winners and see their works!
Nadia Markiewicz
(born 1992) completed her M.A. diploma in the Spatial Activities Studio of Prof. Mirosław Bałka at the Academy of Fine Arts in Warsaw (2020) and received the rector's distinction. She completed the B.A. diploma in Prof. Paweł Susid's studio of Image Concepts (2017). She also studied at the Gerrit Rietveld Academie in Amsterdam (2010-11) and at Warsaw University (2011-14). She is currently working under the auspices of the Studio of Performance led by Julie Béna and Jakub Jansa at FAVU in Berno. A scholarship holder of the rector of the Academy of Fine Arts in Warsaw awarded for artistic achievements.
The most important exhibitions: individual One armed bandit at Punkt Odbioru Sztuki in Łódź (2019), Jammed Into a Paradox at 601artspace in Newy York (2020), Polikultura Festival in Kraków (2020), Survival Festival in Wrodław (2018), Talking Point at Central Saint Martins in London (2019), There's no love at Galeria Salon Akademii in Warsaw (2019), Performance Platform at Galeria Labirynt in Lublin (2017). A participant of School of Expressions residencies at PLATO in Ostrava (2019), Penny Affairs at Namysłowska Bazaar in Warsaw (2019) and Hexen Tabor Gore at City Art Centre in Gorzów (2019).
When she was eight, while on holidays with her parents, she wanted to play billiards. It turned out that she wasn't able to hold the stick to participate in the game on equal terms. This situation prompted her to design a performative spatial situation entitled Jackpot. Nadia explores the presence of disabled people in the public space and the process of erasing disability from human imagery.
Nadia Markiewicz. Jackpot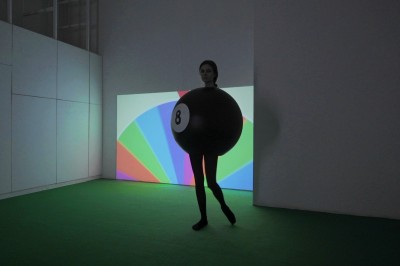 Aleksandra Rogala
(born 1997) always loved to draw. She has created a character that she called One and has drawn One in various everyday situations. She has drawn several dozen short stories depicting the life of One. Two of the stories are the basis of an animated film. At the age of three, Aleksandra was diagnosed with childhood autism and at the age of ten additionally with moderate individual disability.
She doesn't speak a lot, which makes her stories even more interesting. The story descriptions were made by Marta Sierocka-Rogala, based on the answers provided by the author.
Aleksandra Rogala. Stories about Number One | Video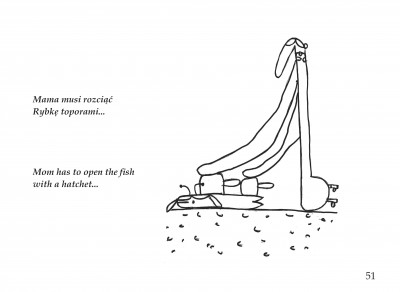 Aleksandra Rogala. Stories about Number One | Publication
Katarzyna Żeglicka
(born 1975) – a queer disabled woman, feminist and activist; performer, certified WenDo self-defence and assertiveness coach for women and girls; culture animator and student of a postgraduate course in Theatre Pedagogy. She has completed the annual Stage Choreography Course with Iwona Olszowska. A participant of the Winter Artist Exchange Ponderosa residency in Germany, as well as workshops and laboratories in Poland, Sweden, and Holland. A scholarship holder of the Krakow Resilient Culture programme. She appeared in numerous performances. She runs WenDo workshops around body work, accessibility and counteracting discrimination against disabled people. Apart from her artistic practice, she is a member of the Article 6 collective for disabled women and the Kraków Council for Equal Treatment. Since February 2021 she hosts her original show Shouting space on Radio Kapitał. In 2014 – 2020 she co-created the Zone of Venus of Milo.

The Contrast Resonance etude refers to the experience of undergoing an MRI examination, observing body movements and machine-generated sounds. The work represents a resonance of oppression against disabled women.

kzeglicka.com
facebook.com/kzeglicka
Katarzyna Żeglicka. Contrast resonance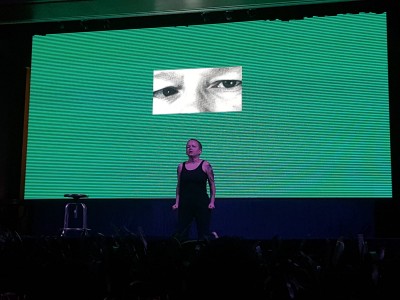 Piotr Drożdżak
(born 1987) is a drawer, painter and graphic designer – self-taught in these fields and a demon for work. He paints and draws, imposing ruthless discipline on himself day after day, year after year, in all the years of his life.
Piotr's adventure with art began when he was about four years old and started drawing objects that he observed after a train trip from Warsaw. The trips continued incessantly for nine years. At that time Piotr travelled to the Children's Memorial Health Institute in Warsaw, where he was diagnosed with early childhood autism.
Piotr has showed outstanding drawing skills and a knack for reproducing objects realistically from a very young age. During his train trips Piotr learned a lot about traffic, route, vehicles, stations, people etc. He was interested in everything, as his mother recalls, but particularly attracted by trains he could draw for hours.
Numerous exhibitions and interest on the part of art collectors reaffirmed Piotr as an artist. Art gave him freedom and created a crave for independence. This new stage in Drożdżak's creative activity has resulted in interesting pictures that show trains rushing towards new worlds, still unknown. His paintings are displayed in the Gallery of Non-professional Art at the Silesian Museum in Katowice and at the Jacek Malczewski Museum in Radom. He has had three exhibitions at the Cultural Centre ArtBrut Gallery in Lublin, each time attracting many viewers
Tomasz Grabowski
A deaf multimedia artist. A graphic designer employed at the Mazowiecki Institute of Culture. A graduate of the Faculty of Graphics at the Academy of Fine Arts in Warsaw. A Socrates Erasmus scholarship holder at the École Supérieure Estienne des Arts et Industries Graphiques Art University in Paris. A scholarship holder of the Minister of Science and Higher Education for outstanding achievements. Expert on the problems of deaf persons. Co-founder of the Deaf Artists Group.
The film entitled The Burundian was inspired by an excerpt from the book The Mask of Benevolence: Disabling the Deaf Community by Harlan Lane – an American professor of psychology and linguistics, and a prominent researcher on Deaf culture and sign language. The author compared Belgian colonialism over the Burundian people to the domination of hearing people over Deaf people.
Tomasz Grabowski. Burundian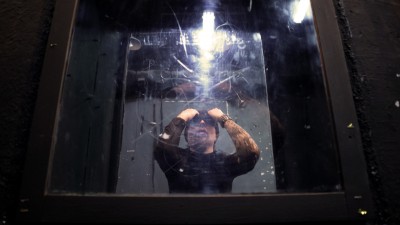 Maja Kowalczyk
(born 1997) is an actress, dancer and artist with Down syndrome, endowed with extraordinary creativity and a strong need for independence. She paints pictures, dances Zumba, writes poetry, and cooks wonderfully. She is discovering the joy of playing the saxophone. She has been an actress of Teatr 21 since 2006. Life motto: It is possible.
In 2018–2021 took part in: Jérôme Bel's "Gala" performance presented at the Body and Mind festival in Warsaw; "Dance and disability: crossing borders" lab in Bytom, organised by the Institute of Music and Dance and the British Council; Survival Strategies project at Theatre 21 and the Centre of Inclusive Art; Kasia Kurzawska's My Way music video directed by Kuba Zarzycki. Since 2006 she has been working on theatre projects with Theatre 21 and has been part of numerous performances, such as Constitution for the Choir of Poles by Marta Górnicka at Nowy Teatr in Warsaw or Body to body with Marylin online performative lecture organised by Berlin's Sophiensaele.
I Have the Right video is a manifesto of femininity, protest against stereotypical perception of people with Down syndrome. A call for freedom and respect.
Maja Kowalczyk. I Have the Right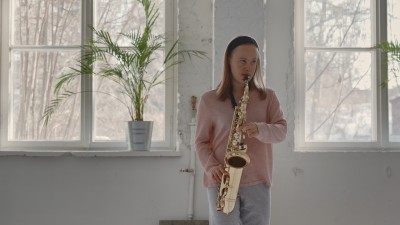 Maja Kowalczyk. I Have the Right | film with AD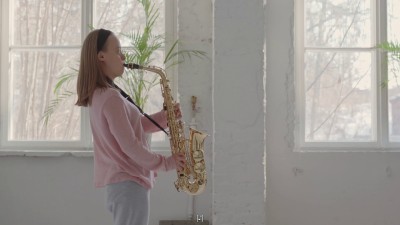 Registration
FACEBOOK
Register with facebook
Thank you for your registration!
We have sent to your email address a link with a confirmation of registration.
Please click on the link in order to fully activate your account.

After registering on the service, you can add events and exhibitions that are important for you to your favourites. To your list of favourites you can also add objects from the collection, and from amongst the publications and multimedia library which we make available on our open Creative Commons licence. As a result you can download publications, books, films and many other materials.

Shortly you will be redirected to main page