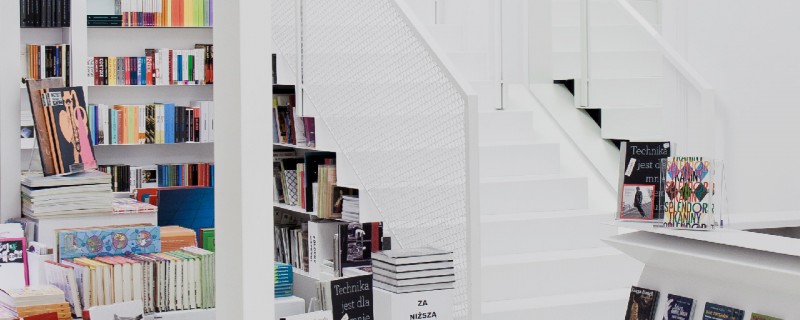 Zachęta's publications
The wild west. A history of Wroclaw`s avant-garde
65,00 zł
edited by: Jolanta Pieńkos
graphic design: Creative Commons Attribution-ShareAlike
publisher: Zachęta - National Gallery of Art, Wrocław Contemporary Museum
ISBN: 978-83-64714-18-4
ISBN: 978-83-63350-20-8
Wrocław – a city in the Recovered Territories, which before the Second World War had nearly one million inhabitants, for decades could not be rebuilt after being destroyed in the Siege of Breslau. Out in these fascinating wild fields situated at the edge of a communist country where various cultures met, in a spirit of freedom and independence, artists have created their own original microcosm with bold experiments and international cooperation with partners from both sides of the Iron Curtain at its heart.
The exhibition presents works of art, films, documentary photographs, objets d'art, and recordings – nearly 500 works of visual arts, architecture, urbanism, theatre, film, design, and everyday life of Wrocław since the 1960s until the present.
The exhibition "The Wild West. A history of Wrocław's Avant-Garde" is not a story of the art of Wrocław. It is a story about this special city seen through the art created there. It is a story about a city with towers of gothic churches, buildings designed by Max Berg, Hans Poelzig, Erich Mendelsohn, or Hans Scharoun, where the newly arriving Poles have brought new values and most of all, new life.
Artists: Jan Jaromir Aleksiun, Stanisław Antosz i Katarzyna Chierowska (Antosz i Andzia), Gabor Attalai, Paolo Barrile, Krzysztof Bednarski, László Beke, Marianna Bocian, Włodzimierz Borowski, Jan Bortkiewicz, Piotr Bosacki, Dariusz Brygier, Olaf Brzeski, Cezary Chrzanowski, Jan Chwałczyk, Ewa Ciepielewska, Paweł Czepułkowski, Jerzy Czerniawski, Oskar Dawicki z chórem ARS CANTANDI, Rineke Dijkstra, Michał Diament, Zbigniew Dłubak, Tomasz Domański, Jerzy Domaradzki, Jean Marie Drot, Stanisław Dróżdż, Antoni Dzieduszycki, Jerzy Federowicz, Hervé Fischer, Karolina Freino, Eugeniusz Get-Stankiewicz, Artur "Goły" Gołacki, Wanda Gołkowska, Zbigniew Gostomski, Jadwiga Grabowska-Hawrylak, Klaus Groh, Nicolas Grospierre, Jerzy Grotowski, grupa Luxus, grupa Łuhuu! (Katarzyna Goleń, Karina Marusińska, Agnieszka Rzeźniak i Natalia Rzeźniak), Bożena Grzyb-Jarodzka, Małgorzata Gusta, Oskar Hansen, Władysław Hasior, Agnieszka Holland, Zdzisław Holuka, IP Group (Łukasz Twarkowski, Jakub Lech, Anka Herbut, Bogumił Misala, Piotr Choromański), Rafał Jakubowicz, Jacek "Ponton" Jankowski, Konrad Jarodzki, Paweł Jarodzki, Mariusz Jodko, Zdzisław Jurkiewicz, Helmut Kajzar, Tadeusz Kantor, Małgorzata Kazimierczak, Paweł Kędzierski, Mirosław Koch, Maciej Kochajewski, Grzegorz Kolasiński, Bartosz Konieczny, Krzysztof "Konik" Konieczny, Tadeusz Konwicki, Bartosz Korzeniowski, Jerzy Kosałka, Marzenna Kosińska, Paweł Kowzan, Barbara Kozłowska, Grzegorz Królikiewicz, Tadeusz Kubiak, Marlena Kudlicka, Anna Kutera, Romuald Kutera, Natalia LL, Piotr Lachman, Andrzej Lachowicz, Suzy Lake, Olga Lewicka, Zbigniew Libera, Witold Lipiński, Witold Liszkowski, Bogusław Litwiniec, Jerzy Ludwiński, Zbigniew Makarewicz, Daniel Malone, Jolanta Marcolla, Dóra Maurer, Krzysztof Meisner, J. Michalewski, Maria Michałowska, Bogusław Michnik, Karel Miller, Eugeniusz Minciel, Lech Mrożek, Stefan Müller, Roland Nicolaus, Ernest Niemczyk, Zbigniew Olchowik, Piotr Olszański, Krzysztof Orluk, Laura Pawela, Géza Perneczky, Anna Płotnicka, Ludmiła Popiel, Małgorzata Potocka, Marek Puchała, Robert Rehfeldt, Andrzej Rogowski, Tadeusz Rolke, Wacław Ropiecki, Jerzy Rosołowicz, Andrzej Sapija, Jan Sawka, Carolee Schneemann, Allan Sekula, Stanisław Sielicki, Aleksander Sikora, Skalpel (Marcin Cichy i Igor Pudło), Krzysztof Skarbek, Piotr Skiba, Eugeniusz Smoliński, Michael Snow, Kama Sokolnicka, Zdzisław Sosnowski, Henryk Stażewski, Petr Štembera, Tomasz "Mniamek" Stępień, Bronisław Szubzda, Tomasz Szwed, Jan Świdziński, Elżbieta Tejchman, Miroljub Todorović, Endre Tót, Jerzy Troszczyński, Krzysztof Wałaszek, Torgeir Wethal, Anastazy Wiśniewski, Zorka Wollny, Paul Woodrow, Valie Export, Pierre Vandrepote, Jacek Zachodny, Krzysztof Zarębski, Wiesław Zdort, Carsten Zorn, Andrzej Żuławski